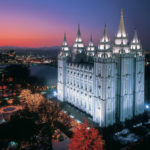 "Temple Square" is the centerpiece of Salt Lake City.  Although we probably should have, we didn't fit the tour into our Salt Lake City visit.  We arrived here ready to explore and to get to know the  area.  We found it pretty but very dry and hot…hot…hot!  We have had low 100's to high 80's but mostly in the 90's.  Really hot for us as we are used to the milder Seattle weather.  Some light winds have helped cool off in the evenings.  Thank goodness for the air conditioner in the 5th wheel to keep it bearable.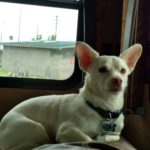 Our plan was to take Salty (our little dog) with us on our travels but it is way to hot to leave him in the truck when we get out.  He gets to stay home and enjoy sitting on the back of the couch in air conditioned comfort while we are out and about exploring the local sights and the town.  Our older black lab, Pepper, did not join us on this trip.  He is 12 (that's like 87 in dog years) and it is just getting too difficult for him to get in and out of the truck and RV.  Plus his sight and hearing are failing.  Cecil is like that too, but we couldn't leave him home.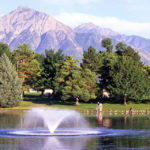 We spent all day Saturday at Liberty Park – the oldest and most prominent park in Utah.  Established in 1882, Liberty Park is a local favorite with open space, beautiful trees, water park, picnic area, an aviary and lots of walking paths throughout the 100 acres.  We both spent all day there on Saturday (see Ingress section  below), walking from one end to the other several times.  Visiting the horseshoe pits, duck pond and aviary park and especially the shady benches thoughtfully provided around the perimeter trail.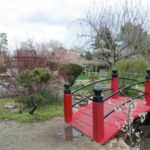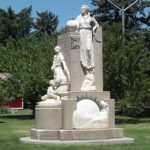 The Peace Gardens are located on the banks of the Jordan River in Jordan Park and became a reality in 1947.  Twenty-eight countries are represented at the gardens, maintained by the Salt Lake City Parks Department, where they are planted with colorful flowers and foliage.  Much of the landscape and decorations are reminiscent of the subject country in each area – pagodas in the Japanese area, Greek sculptures in the Greek garden, olive trees in the Italian gardens, etc.  Paths led you throughout the park and they even allow dogs.  Many mature trees provided shade to break the heat. We took lots of breaks to sit in the grass and relax while not running from shade tree to shade tree.  Lots of families were enjoying the sun or shade and being outdoors.
We also had a chance to visit The University of Utah campus located in the hills above downtown Salt Lake City.  It would be a challenge to go to classes here because it is spread out over a large area.  However, students much younger and  more resourceful ride bicycles, skate boards or the transit system to move around the area. We remember when walking across campus was not a big deal…now we get breathless walking from building to building  never mind going up and  down stairs.
We spent some time visiting Heritage Park – located on the east side of Salt Lake City. This is the location where, on July 24, 1847,  Brigham Young  first saw  Salt Lake Valley that became the  Mormon pioneers' new home.  There is a reconstructed village as you would have expected to find in that time period.  Did we mention the large number of LDS church's in the area?  They are almost as plentiful as Starbucks in Seattle…only a slight exaggeration!
INGRESS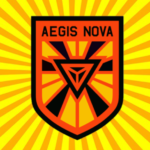 Aegis Nova was our first Anomaly on the ground.  During Obsidian we served on the fielding team.  Even as much as we like to field, being in "the trenches" for a cluster war was lots of fun.  Being on a great team helped a lot!
The predictions leading up to Saturday, June 26th (Anomaly Day) were a  bit ominous.  Salt Lake City is traditionally a Resistance held area and based on the number of registered players they out numbered us.  Never the less, we intended to do our best – and have fun!  We were assigned to cluster team #2 and met with the whole team on Friday night.  We had visited several farms (some blue) in the days prior and reached our suggested inventory levels by Friday night.   We were ready!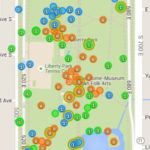 Our assigned area was Liberty Park – an area we were not familiar with.  Well heck, we are not familiar with ANYTHING in Salt Lake City.  Our team worked well together, the team captain kept all of us on task and informed.  We captured our first destination portals from a blue team that was already on it and held it throughout the first measurement period capturing one of the first shards of the event.  By the end of the second measurement the blue team was going into a panic and began trying to block us with links instead trying to capture and control destination portals.  Although we didn't have contact with them our link teams were obviously hard at work as we saw blue lose link after link and green links appear inbound to the destination portal that we were defending.
The scores were coming to us as rumors, and all indicated we were winning.  At the final measurement we all knew we had won.  There is some discussion of Niantic actually changing the scores, but here is what we have as "final" right now for SLC.  Enlightened: 699, Resistance: 603.  That puts Salt Lake City in the win column for the Enlightened.  With only Tokyo left in this Anomaly the overall score is Enlightened: 17, Resistance: 7.  This means no matter what happens in Tokyo, the enlightened have won this anomaly!  Enjoy some of our photos: