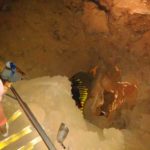 After leaving the Mammoth Site, we headed to the Wind Cave National Park just a few miles up the road.  We are both cave nuts…so this was a great exploration opportunity.  Luck was with us as the tour we selected was starting in just 30 minutes.  This gave Linda enough time to look thorough the gift shop but not buy anything unless she was willing to carry it on the 1-1/2 hour "strenuous" underground tour.  We selected the longest tour as it took us on all three levels of the cave basically combining the other two tours into one. The ticket holder was warned of its 450 steps…including one flight of 89 steps…but that did not deter us.  Although near the end of the tour, the steps leading to the top level and the way out did seem a nearly insurmountable goal for these weary adventurer!
The Wind Cave was named for small openings on the surface which allows the cave to "breath" depending on the atmospheric pressure on the outside.  In fact, that was how it was discovered by a teenager who explored 11 miles of the cave on his own.  The idea of exploring a cave of this size with just a candle and string would make it difficult to measure.  He later set up a small business guiding tourist through the cave at $2.50 which included a buggy ride and overnight accommodations (it was 1881).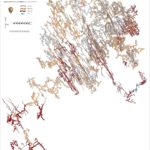 This is one of the longest, oldest and most complex cave systems in the world.   After a century of exploration, over 145 miles of the underground honeycomb of tunnels have been explored with more undiscovered.  The tour we choose covers 2/3 of a mile, traversing several layers of  the main tunnel (top, middle and lower) that loop back and forth over themselves.   Outside the temperature was 90 degrees but as we entered the cave we were soon putting on our jackets.  This cave is unique from other caves in that it had less active water flow.  There are very few dripstone formations such as stalactites and stalagmites.  However, it is known for its  "boxwork" formations; extremely rare in other caves.  These are mineral deposits that developed in the cracks of the limestone.   As the limestone eroded away the deposited minerals remained, leaving lovely formations, "boxwork",  on the ceiling of the cave.  Taking pictures was difficult due to the limited lighting but we hope you will like those we were able to get of the cave formations.  Note particularly the one looking straight down following the yellow-marked stairway.  Every step down we were thinking, "We have to come back up these".  In fact, the cave is so complex that we never actually covered the same passage twice.