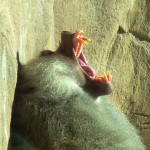 While visiting Cecil's daughter and family in Peoria, Arizona we all decided to spend the day at the Phoenix Zoo.  It was iffy weather when we started but once the plans were made we decided to take a chance on the planned outing.  We arrived to cloudy but short sleeve weather perfect for walking the paths.  We saw a lot of exotic animals as most were out and about in the cool weather….lions, tigers and bears…oh my!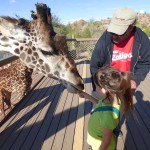 One of the favorite things we did was feed the giraffes.  Grandpa and Granddaughter Diana went on a "wild encounter" that allowed them on a platform at a level to feed the giraffes up close and personal.  Of course the animals knew the process and came running from their enclosures to take part in this experience.  Long purple tongues came out to lick up as much  as possible from your hand.  It is a little startling at first as they are all trying to get their fair share but a trained handler is assigned to each group as they enter to give background, answer questions and prepare you on what to expect.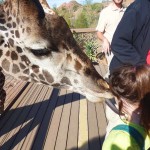 We all got some great pictures of the event that will be remembered by all.
The other greatly anticipated encounter was the petting zoo.  It was fun to see the grand kids enjoying petting the goats, sheep, chickens and calves.  (Almost like being at home for us.}  There were some tractors outside the barn that you could climb on to get the feel of the seat and pretend to be plowing the field  " Green acres is the place to be.  Farm living is the life for me."