We made it to Utah – still in one piece and still speaking to each other.  No major problems and full of excitement to visit the National Parks in the area.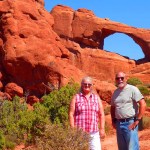 We entered the park early in the morning when it is still cool and the light on the mountains is at its best.  After a drive up a steep incline we arrived on a plateau where the sights began.  There were wonderful uplifted rocks and canyons along the drive.  We drove the whole park stopping at a variety of overlooks and parking areas where we were able to take short walks, some steeper than others, to look at and take pictures of the sights.   The arches were awe inspiring.  It is amazing to think of the centuries of natures action needed to create these natural wonders.  We have plenty of pictures but only choose a few of the best for postings to the blog.  Here are others. 
Moab
A short drive from the parks is the City of Moab.  Not much to mention about the town itself except for having a Starbucks and a wonderful fossil and mineral shop on the north edge of town:  Lin Ottingers Moab Rock Shop www.moabrockshop.com.  I could have spent hours looking at everything.  Every aisle held a different treasure to see, touch and wonder at.  Be sure to stop by if you find yourself in this area.
Canyonlands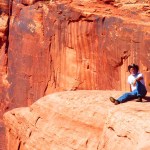 Located a few miles from the Arches is the Canyonlands National Park.  It is similar to the Grand Canyon and is at the convergence of the Colorado and Green Rivers.  The overlooks are dramatic, peering over the edge into the depths – fascinating and frightening at the same time.  While Linda kept her distance from the edge Cecil became bolder on each stop and ventured further out to see what lay below.   Sometimes the sides of the canyon were straight down from the cliff to the river below.