On Saturday, we headed out for Tyson's wedding (Cecil's nephew).  Galelle and Tyson wanted to get married at their favorite site in the deserts of Utah.  Did I mention it was in the desert?  30 miles off the freeway (1.5 hours) bumping along unmarked roads, crossing washes, in and out of arroyos, dust, and  around a corner to approach a covered geodesic dome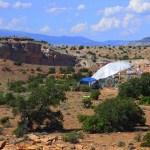 where the wedding was to be held.  A few hours later we were unloading tables and chairs and setting up lunch for family and friends.  They were married under an arch with a view of the mountains and magnificent canyons as a back drop.  Galelle's family and friends from France were able to join us for this momentous occasion and nearly the entire wedding party camped out there after the ceremony.  We elected not to stay the evening and returned to our home on wheels.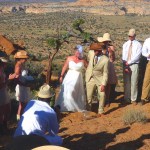 Those who remained enjoyed the evening of celebration but it was cut short by rain showers and followed the next morning by an 8-hour drive over muddy roads with pushing and sloshing along the unpaved road to get back to the interstate.  It was a day to be remembered!